We'll Analyze Your Savings
Providing you a detailed report of what you should be paying!
Upload Your Statements
Anytime, Anywhere Payments
Our software is the most versatile you'll find. Receive payments a variety of ways, with or without the card present, offline, online, or even using our API. There is no more secure way to accept credit cards.
Summarized Benefits:
(1)

Accept all credit and debit cards-even Apple Pay.

(2)

Create custom invoices for your clients to pay online.

(3)

Support recurring and future-dated payments.

(4)

Store credit card info and auto update the expiration.

(5)

Works seamlessly with online shopping carts.

Virtual Terminal
Send invoices for your clients to pay online. Capable of Level 3 processing, for the lowest Visa and Mastercard rates. Store cards, set payment schedules, and auto update expiration dates as well as create reports for easy tracking.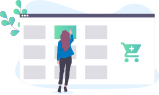 E-Commerce
Whether you're looking for a simple hosted payment page or to integrate our payments seamlessly into your current online store, we've got you covered. We also support PayPal as another flexible option.