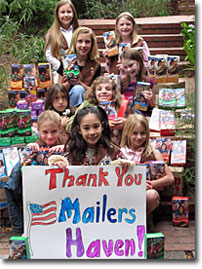 It starts with our customers.
We could not do it without their continued support. Each fall, we have a money drive and donate money from every single order we receive. It amounts to tens of thousands of dollars, going towards children in need, research to cure diseases, veterans who have served our country, character building organizations, local communities in the U.S., as well as global disasters abroad.
And continues with our employees.
Not only do we donate money, but our Mailers Haven sales team, TSAs and admin staff come together to give their time as well. From handing out toys to homeless children to serving food at a local mission.
We all share this world.
There is a lot of ways we can help. Sometimes it a natural disaster that Mailers Haven matches customer donations. Other times, it's just being a good people: rushing a count for a customer in need, or showing patience in every situation. Know that when you use Mailers Haven, we are doing what we can to make things better for everyone.
On this page, you can track our most current donations as well as review any past year's giving history.
Here's to a fruitful year that brings prosperity to all.
Best regards,
Tonya Wade,
President, Mailers Haven